\5,269円~ (税込/ included tax)
【人気者!】マックス ビッグシルエットスウェット / [Popular!] MAX Big Sweat
"Max" runs "Max Farm" on Fruvege (Fruit & Vegetable) Island, which is full of delicious vegetables and fruits.
Max's "Big Sweat", who loves gardening, is now available!
Recommended for gifts and everyday use ☆ 彡
You can choose the colour from white, black, ash, and navy. (The photo is white.)

The sizes are M, L, and XL.
「マックス」は、おいしいヤサイやフルーツがいっぱいのフルべジアイランドで「マックス農場」を経営しています。
ガーデニングが大好きなマックスの『マックス ビッグシルエットスウェット』が登場!
プレゼントにも普段使いにもおすすめです☆彡
カラーは、ホワイト、ブラック、アッシュ、ネイビーからお選びいただけます。(写真は、ホワイトです。)

サイズは、M、L、XL。
購入について  / About purchase
You can buy this item at PY Kobo branch.
* Prices may vary depending on size and color, so please check the purchase page.
以下のPY工房出店サイトでご購入可能です。
※価格は、サイズやカラーなどにより変動する場合がありますので、購入ページでご確認ください。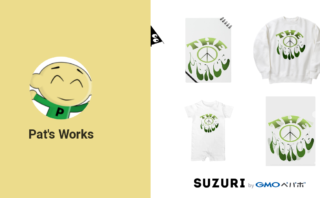 Pat's Works ( patmaru )のオリジナルグッズ・アイテム通販 ∞ SUZURI(スズリ)
Pat's Works ( patmaru )の公式アイテムの通販サイト。PY Koboの名古屋に住んでるでサイナーのPatです。 宜しくお願いします。 YukoのSuzuriサイト宜しくお願いします!