【ユニーク】フロッグバートの「ディスコ」リンガーTシャツ / [Unique] Frogbert's "DISCO" T-shirt
ラインスタンプでおなじみの働きカエル・フロッグバートの可愛い「ディスコ」リンガーTシャツができました!!!

その名は「DISCO FROGBERT リンガーTシャツ」。
働きカエルのフロッグバートは、毎日一生懸命働いています。
土曜日の夜は朝まで、ディスコ・タイム!
この「ディスコ」リンガーTシャツには、そんなフロッグバートの「踊るのハッピー!」の気持ちが込められています。

時には、楽しく好きなことをしてリラックスするのも大事ですよね。
Tシャツのサイズは、S・M・L・XLからお選びいただけます。

他にも、ノートやトートバッグ、ベビー用品など、可愛いフロッグバートのグッズがあります。
Pat designed the "DISCO" Frogbert T-shirt.
Working frog Frogbert works hard every day.

He enjoys disco time all night on Saturday.
This "DISCO" T-shirt expresses the feeling of "Happy to dance!".

Sometimes it's also important to relax and do something you like and have fun.
The size of the T-shirt can be selected from S, M, L, or XL.
Besides, there are cute Frogbert "DISCO" goods such as mugs, tote bags and koozies.
購入について  / About purchase
以下のPY工房出店サイトでご購入可能です。
マーケットSUZURI

※価格は、サイズやカラーなどにより変動する場合がありますので、購入ページでご確認ください。
You can buy this item at PY Kobo branch.
Market SUZURI

*Prices may vary depending on size and color, so please check the purchase page.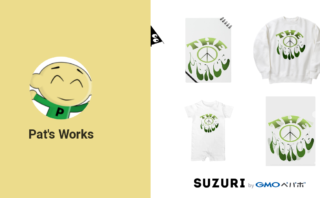 Pat's Works ( patmaru )のオリジナルグッズ・アイテム通販 ∞ SUZURI(スズリ)
Pat's Works ( patmaru )の公式アイテムの通販サイト。PY Koboの名古屋に住んでるでサイナーのPatです。 宜しくお願いします。 YukoのSuzuriサイト宜しくお願いします!
フロッグバートの「ディスコ」シリーズ  / Frogbert's "DISCO" series