¥3,784 (税込)~
A cute "KAERU KAERI (a frog returns)" Standard T-shirt featuring the familiar working frog Frogbert with line stamps is now available! ! !
Frogbert, the worker frog, works hard every day. He so happy to be home!
This "KAERU KAERI" Standard T-shirt contains the feeling of "Happy to go home!" by Frogbert.
After shopping, after school, after work, being able to return safely to where you belong is a very happy thing!
Colour options include black, white, baby pink, apple green, and indigo. (The photo is black.)
The sizes are M, L, XL, XXXL, G-S (Ladies), G-M (Ladies), G-L (Ladies), 90 (Kids), 110 (Kids), 120 (Kids), 130 (Kids), 140 (Kids), 150 (Kids), 160 (Kids).
ラインスタンプでおなじみの働きカエル・フロッグバートの可愛い「かえる帰り」スタンダードTシャツができました!!!
働きカエルのフロッグバートは、毎日一生懸命働いています。家に帰るのがすごく幸せなフロッグバート!
この「かえる帰り」スタンダードTシャツには、そんなフロッグバートの「おうち帰るのハッピー!」の気持ちが込められています。
お買い物の帰り・学校の帰り・会社の帰り、無事に 自分の居場所に 帰れることは、とても幸せなことですね!
カラーは、ブラック、ホワイト、ベビーピンク、アップルグリーン、インディゴなどからお選びいただけます。(写真は、ブラックです。)
サイズは、M・L・XL・XXXL・G-S(Ladies)・G-M(Ladies)・G-L(Ladies)・90(Kids)・110(Kids)・120(Kids)・130(Kids)・140(Kids)・150(Kids)・160(Kids)。
* Available on the SUZURI sales site
* Prices may vary depending on size and color, so please check the sales page.
* There are other goods such as notebooks, T-shirts, and baby products.
※販売サイトSUZURIのページで購入可能

※価格は、サイズやカラーなどにより変動する場合がありますので、販売ページでご確認ください。
※他にも、ノートやTシャツ、ベビー用品などのグッズがあります。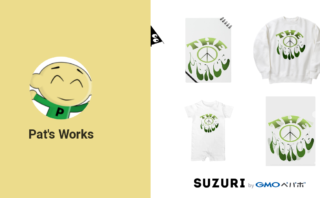 Pat's Works ( patmaru )のオリジナルグッズ・アイテム通販 ∞ SUZURI(スズリ)
Pat's Works ( patmaru )の公式アイテムの通販サイト。名古屋に住んでるでデザイナーのPatです。 宜しくお願いします。 YukoのSuzuriサイト宜しくお願いします!