¥4,055 (税込) 
おいしいヤサイやフルーツがいっぱいのフルべジアイランドに住んでいるラブリーな「こぶたのラブちゃん」。
毎日、おいしいフードを求めてお散歩しています。

好きな言葉は、「I LOVE FOOD」!
オシャレと食べものが大好きなキュートなラブちゃんのドライTシャツができました!

カラーは、ホワイト、ブラック、オレンジ、メロン、蛍光ピンクなどからお選びいただけます。(写真は、ホワイトxロイヤルブルー。)

サイズは、S、M、L、LL、3L、4L、W-M(Ladies)、W-L(Ladies)、120 (kids)、130 (kids)、140 (kids)、150 (kids)。
There is an island full of vegetables and fruits called Fruvege (Fruit & Vegetable) Island.
Healthy vegetables, fruits and animals are living there.
Piggy Love-chan also lives on that island.
Love-chan, who loves fashion and food, takes a walk on Fruvege island in search of delicious food every day.
Dry T-shirt designed Love-chan!

You can choose the colour from white, black, orange, melon, fluorescent pink, etc. (The photo's colour is white x loyal blue.)
As for the size, S, M, L, LL, 3L, 4L, W-M(Ladies), W-L(Ladies), 120 (kids), 130 (kids), 140 (kids), 150 (kids).
購入について  / About purchase
以下のPY工房出店サイトでご購入可能です。
※価格は、サイズやカラーなどにより変動する場合がありますので、購入ページでご確認ください。
You can buy this item at PY Kobo branch.
*Prices may vary depending on size and color, so please check the purchase page.
こぶたのラブちゃんシリーズ  / "Piggy Love-chan" series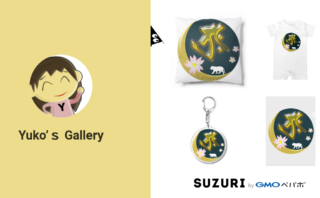 PY Kobo Yuko's Gallery ( Pikabear )のオリジナルグッズ・アイテム通販 ∞ SUZURI(スズリ)
PY Kobo Yuko's Gallery ( Pikabear )の公式アイテムの通販サイト。ポップで可愛いものから歴史などを題材にしたクールなものまでPY工房のYukoがデザインしたものを公開しています。 PY KOBOのPatがデザインしたアイテムもよろしくお願いします!