Outline / 概要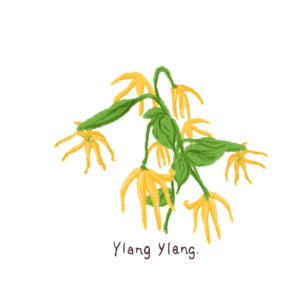 Ylang Ylang is a tall tree native to tropical regions such as Madagascar that produces yellow star-shaped flowers. It has an exotic and rich scent reminiscent of a tropical island.
There are four grades (extra, 1st, 2nd, 3rd) depending on the distillation process, and the mixture of all grades is called "complete". Extra is the first extracted essential oil and is the highest grade.
イランイランは、マダガスカルなど熱帯地域原産の背の高い樹木で黄色の星型の花を実らせます。南国を連想させるエキゾチックで濃厚な香りがします。
蒸留工程により4つのグレード(エクストラ、1st、2nd、3rd)があり、すべてをミックスしたものをコンプリートと呼びます。エクストラは最初に抽出された精油で最上級グレードです。
Data / データ
Southeast Asia, Madagascar etc. / 東南アジア、マダガスカルなど
Extra, 1st, Complete: Benzyl benzoate, Methyl salicylate, etc.
2nd, 3rd: Germacrene D, Fanessen, β-caryophyllene, benzyl benzoate, etc.
エクストラ、1st、コンプリート:安息香酸ベンジル、サリチル酸メチルなど
2nd、3rd:ゲルマクレンD、ファネッセン、βカリオフィレン、安息香酸ベンジルなど
steam distillation / 水蒸気蒸留法
Extra, 1st, Complete: Base Note
2nd, 3rd: Middle note
エクストラ、1st、コンプリート:ベースノート
2nd、3rd:ミドルノート
Fruity and rich oriental scent / 甘くオリエンタルな香り
Very well with the following essential oils / 以下のエッセンシャルオイルとの相性良し;
Citrus family such as orange sweet / オレンジスイートなどの柑橘系
Oriental type such as sandalwood / サンダルウッドなどのオリエンタル系
Relaxing effect, sedative effect, bactericidal and disinfecting effect,
scalp / sebum balance adjustment, female hormone adjustment effect, blood pressure lowering effect, etc.
リラックス効果、鎮静作用、殺菌消毒作用、頭脂・皮脂バランス調整、
女性ホルモン調整作用、血圧降下作用など
Fragrant bath, hair care (shampoo, etc.), fragrance, etc.
芳香浴、ヘアケア(シャンプーなど)、フレグランスなど
Because the skin irritation is strong, please dilute with a carrier oil such as jojoba oil before use.
A skin test before use is recommended as it can cause skin irritation to some people.
Please be careful not to get it in your eyes.
Please refrain from using if you are pregnant or have low blood pressure.
刺激が強いため、使用前にホホバオイルなどのキャリアオイルで薄めてください。
一部の人に皮膚刺激を引き起こす可能性がありますので、使用前の皮膚テストをお勧めします。
目に入らないように気をつけてください。
妊娠中の方、低血圧の方は使用を控えてください。