Outline / 概要
Basil means "king" in Greek. Its glossy dark green leaves have been used as the ingredients in cooking and as the medicinal herbs since ancient times. This plant grows to a height of about 60cm to 90cm and bears cute spikes of white or pale pink flowers. The essential oil is pale greenish yellow.
ギリシャ語で「王」という意味を持つバジル。その光沢のある深緑色の葉っぱは、古来から料理の具材や薬草として使われています。高さ60cm~90cm程度に成長する植物で、白または淡いピンク色の可愛い穂状の花をつけます。精油は、淡い緑黄色です。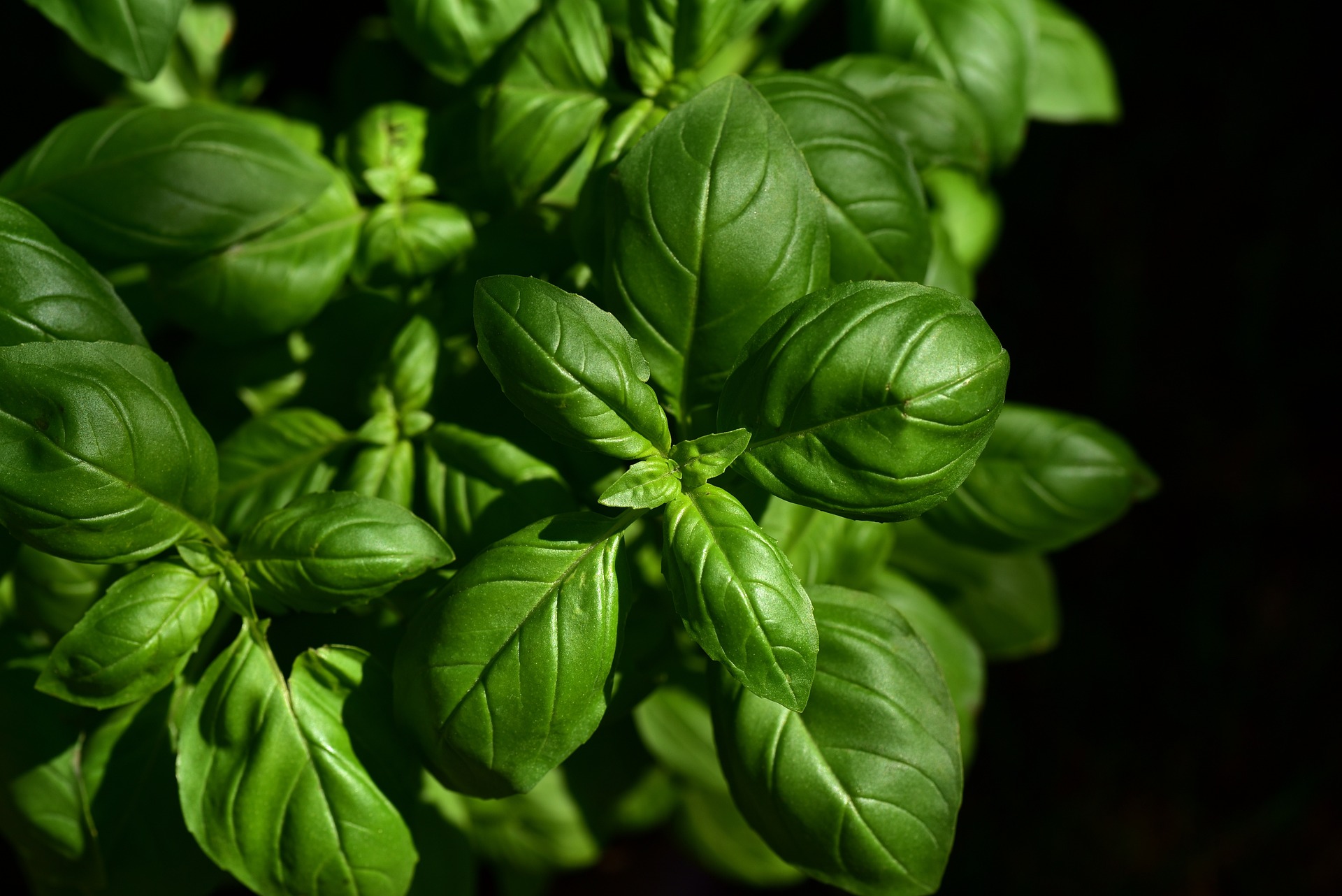 Data / データ
Basil (Basilico) / バジル(バジリコ)
India/Tropical Asia/Africa/Pacific Islands / インド・熱帯アジア・アフリカ・太平洋諸島
Monoterpene alcohols (Linalool), Phenol ethers (methyl chavicol) etc. / モノテルペンアルコール類(リナロール)、フェノールエーテル類(メチルチャビコール)など
steam distillation / 水蒸気蒸留法
Flower, Stem, Leaf / 花・茎・葉
Refreshing, slightly sweet, spicy herbal scent / すっきりとした少し甘さのあるスパイシーでハーバルな香り
Very well with essential oils from citrus oils such as lemon and lime, floral oils such as lavender and geranium, and resinous essential oils such as frankincense
レモンやライムなどの柑橘系、ラベンダーやゼラニウムなどのフローラル系、フランキンセンスなどの樹脂系のエッセンシャルオイルとの相性良し
Antiviral, analgesic, digestive, etc. / 抗ウイルス作用・鎮痛作用・消化促進作用など
Fragrant bath, hand bath, etc. / 芳香浴、ハンドバスなど
Please refrain from applying undiluted solution or high-concentration essential oil to the skin. Be careful if you have sensitive skin, as it can irritate the skin.
Also, if you are pregnant, please avoid using it.
Long-term use is said to be potentially toxic. After using it for 1-2 weeks, try to use other essential oils and do not use it continuously for a long time.
There are many different types of basil. French basil is not very strongly toxic and low-irritating, so it is suitable for aromatherapy.

原液や高濃度の精油を皮膚に付けることは控えてください。皮膚刺激作用があるため、敏感肌の方は注意してください。
また、妊娠中の方は避けてください。
バジル精油の長期使用は、毒性を示す可能性があると言われています。1~2週間使用したら他の精油を使用するなど工夫して使うようにして、長期継続して使用しないようにしてください。
バジルには様々な種類があります。フレンチバジルは毒性が低く刺激も少ないため、アロマテラピーに適しています。
Yin and yang / 陰陽 : Yang / 陽
Chakra / チャクラ : 4th chakra, 5th chakra / 第4チャクラ・第5チャクラ
Constellation / 星座 : Gemini / ふたご座
Planet / 惑星 : Mars, Mercury / 火星・水星
Five elements / 五行 : Metal, Earth / 金・土