"Ashi-sanri"; a pressure point outside of the knee / 膝(ひざ)の外側にあるツボ『足三里』(あしさんり)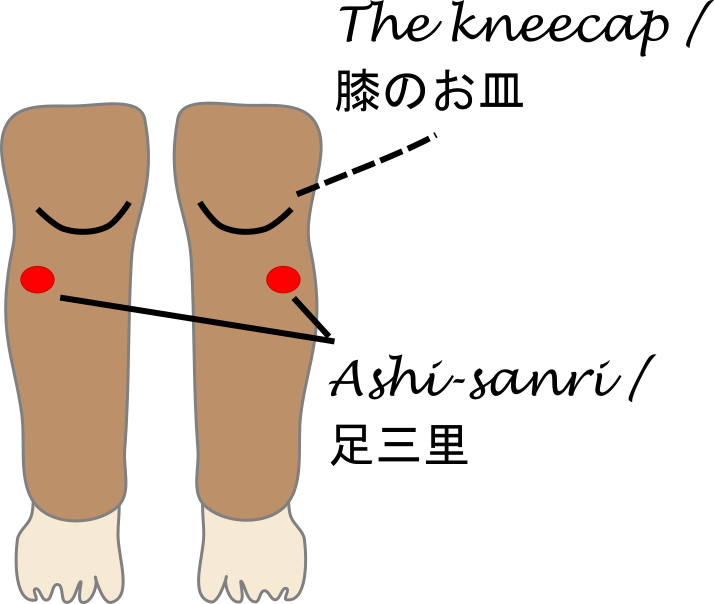 "Ashi-sanri" (足三里) is a pressure point on the outside of the knee, four finger widths from the bottom of the kneecap. The red dot in the above figure is the pressure point.
This point has been known for a long time as a pressure point for improving the condition of the stomach and intestines and strengthening the legs.
It is said that it is good to stimulate when you have the following symptoms.
Upset stomach, stomach ache, diarrhea, vomiting, stomach bloating, toothache, gum disease, low back pain, numbness in the legs, swelling of legs and feet, leg cramp, knee pain, ankle pain etc.
『足三里』(足三里)は、膝(ひざ)の外側、お皿の下から指幅4本分とところにあるツボです。上図の赤い点がツボです。
このツボは、胃腸の調子をととのえ、足を丈夫にするツボとして古くから知られています。
次のような症状があるときに刺激すると良いと言われています。
胃もたれ・胃腹痛・下痢・嘔吐(おうと)・お腹がはる・歯痛・歯周病・腰痛・足のしびれ・足のむくみ・足のつり(こむら返り)・膝(ひざ)のいたみ・足首のいたみなど