"Daitsui" a pressure point that warms the whole body / 身体全身を温めてくれるツボ『大椎』(だいつい)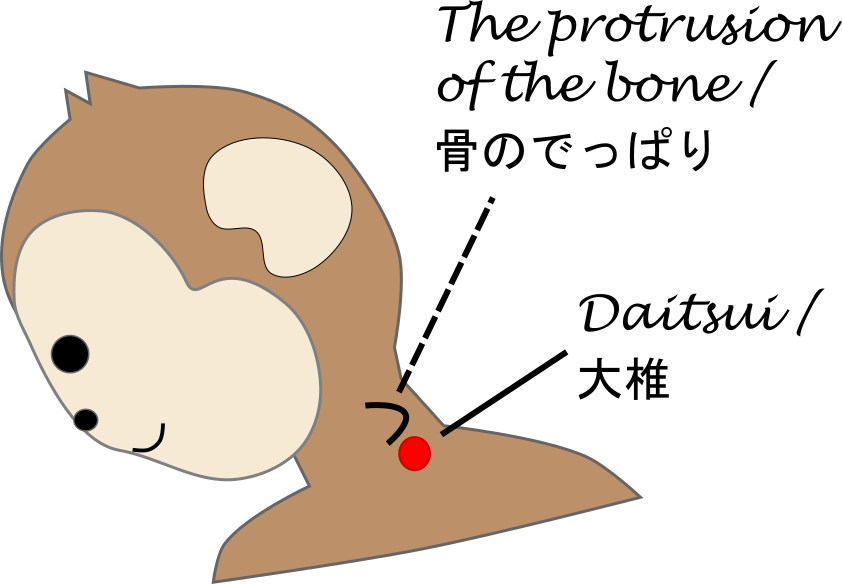 "Daitsui" (大椎) is a pressure point just below the bone that protrudes at the neck when the neck is tilted forward. The red dot in the above figure is the pressure point.
Gently press this point with your finger to stimulate. It is also recommended to warm this point with a hot towel or warmer.
It is said that it is good to stimulate when you have the following symptoms.
Common cold, fever reduction, cough, asthma, hay fever, neck pain, stiff shoulder, back pain, etc.
『大椎』(だいつい)は、首を前に倒したときに、えり首のところに飛び出る骨のすぐ下にあるツボです。上図の赤い点がツボです。
ゆっくりと指で押して刺激します。このツボをホットタオルやカイロで温めるのもおススメです。
次のような症状があるときに刺激すると良いと言われています。
風邪(かぜ)・解熱(げねつ)・咳(せき)・喘息(ぜんそく)・花粉症(かふんしょう)・首の痛み・肩こり・背中の痛みなど